lotted tile frames.
I made my inaugural visit to
Habitat ReStore
a few months ago in Bakersfield, CA (
when living there for six weeks
).
Amongst shelves stacked with boxed tiles, I came across 4x4 inch white tiles with square inset slots. My immediate thought: they would make perfect picture frames for black and white shots, hung by wisps of ribbon. I bought a handful at
10 cents a piece
and stashed them for later use.
Eventually I discovered
Stillwater Story's beautiful Williams Sonoma knockoff Shell Art
, I knew my slotted tiles would make perfect seashell frames.
I repurposed
60 cents of tiles
, seashells, starfish, ribbon, felt, and a diet soda box into a collection of six summery seashell vignettes.
Inspiration:
Achromic Starfish
12.5 x 15.5", $355
Form & Pheremone Collection by Christopher Marley
Photo Credit: WS Home
Tiled Shell Art
Ingredients
1. Slotted Tiles
(qty: 6 @ 10¢ each, Habitat ReStore)
2. Cardboard box from your recycling bin
diet soda, cereal, etc.)
3. Felt (Michael's)
4. Ribbon (Michael's)
5. Mini Starfish (Redondo Beach Pier Gift Store)
6. Seashells (Michael's)
7. Scissors
8. Glue Gun
9. Lighter
10. Picture hanging nails
11. Hammer
*Note: items without price were not purchased for this project.
Total cost: 60 cents
Where to find such tiles?
A few of you have asked where slotted tiles can be purchased. In addition to Habitat ReStore, I found two online retailers, and Home Depot sells a similar tile with a diamond shaped cutout. Unfortunately, the online retailers are charging $5-6 per tile.
Manufacturer: American Olean Tile
Name: Designer Elegance Tile, Square Insert
Size: 4.25" x 4.25"
Colors: White, Almond
1) Art Walk Tile (White, $6.14)
2) South Cypress (Almond, $5.54)
Manufacturer: Daltile
Name: Semi Gloss Diamond Insert Glazed Wall Tile
Size: 4 in x 4 in
Color: Almond
3) Home Depot ($5.02)
American Olean Slotted Tile 4x4, $6.14
Photo Credit: Art Walk Tile


Slotted Tile "Frames"
Shells to be repurposed.
Cardboard Box
Protocol
Step 1. Preparation
- Use scissors to cut cardboard backing to slightly smaller than size of tiles.
- You will need 1 piece of cardboard per tile.
-
Tip
: only a small portion of cardboard will be visible through tile slot, so you can use imperfect sections of cardboard box.
Cardboard Backing
- Use scissors to cut small felt squares, which will be used as wall protectors.
- You will need 4 felt squares per tile.
Felt Squares for Backing.
- Use scissors to cut 15" strands of ribbon.
- Use lighter to singe ribbon ends.
- You will need 1 strand per tile.
Ribbon Strands
-----
Step 2.
Attach Ribbon to Tiles
Fold ribbon in half.
Place on table.
Tile back side up: place on top of ribbon.
Thread ribbon ends through loop.
Pull ribbon ends all the way through loop.
Flip tile to right side up.
Pull ribbon all the way through loop.
Flip tile up side down.
Rotate tile so ribbon strands are facing you.
Tie ribbon ends in a square knot.
Tie a knot about 1 inch from ribbon ends.
-----
Step 3. Add Cardboard Backing
Start with tile up side down.
Use hot glue to attach cardboard to tile.
-----
Step 4. Apply Wall Protection
Use hot glue to apply felt pieces to tile corners.
-----
Step 5.
Apply Shells
Use hot glue to add shells & starfish to "frame."
Six Framed Pieces
-----
Step 6. Decorating
-Use picture nails to hang tiles by ribbon.
Newly Framed
New wall candy for Summer
Auditioning here: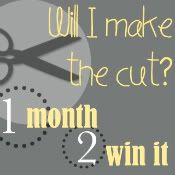 Linking to:
Also linking to some parties in the right side bar.
Visit them for great inspiration!